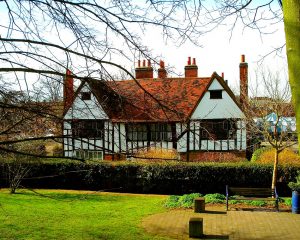 The Biggin on Biggin Lane next to the market in Hitchin, used to be the Gilbertine Priory (founded in 1361 by Sir Edward de Kendale) and what is the Priory used to be the Carmelite Friary. The nave of the Gilbertine church survives in the south wing of the building and the Prior's lodging on the first floor of the west wing. The east end was devastated by fire around 1500 and never rebuilt. After the dissolution in 1539, it was converted into a private house by adding a new east wing.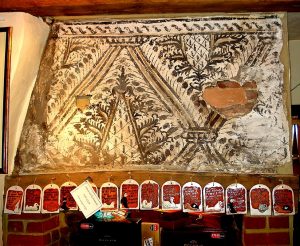 A rare painted fireplace dating from about 1600. (Either Late Elizabethan or early Jacobean) It's in a building at the back of what used to be Tim's Art at 85 Tilehouse Street in Hitchin. It shows vegetation and perhaps a formal garden. The building is now in private ownership and can no longer be seen unfortunately but hopefully it has been preserved.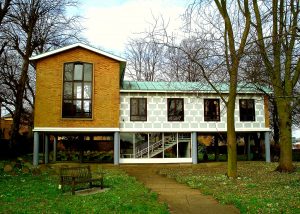 The Modernist Friends Meeting House (Quakers) in Hitchin, was designed by Paul Mauger and built in 1958/9 on stilts and stands over the Quaker graveyard and holds the body of 'Hitchin Worthy' Frederick Seebohm 1833-1912. The Hertfordshire Hitchin Bank that Frederick Seebohm was part of, later became Barclays Bank.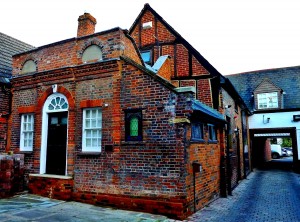 This strange building is behind the restaurant Bella Vita on Sun Street. It's either a terrible nightmare for an architect to 'read' or an absolute thrill to 'decode'. I suspect (as do others) that it has been cobbled together from lots of other buildings (Cheap materials) I really enjoy looking at it, but make if it what you will. Derek Wheeler of 'The Hitchin Historical Society' has suggested that it was part of the Girls' School that was run in Roslyn House during the 19th Century; and that later became a furniture shop until 1910 (approximately), accounting for the mélange of styles and building materials.
(Update)  Since I last took it's photograph, the building has lost its little curvy stairs and there is a huge pile of bricks to the left of where the stairs used to be.  I wonder if they are going to re-do them or do a disabled access ramp? Who knows?