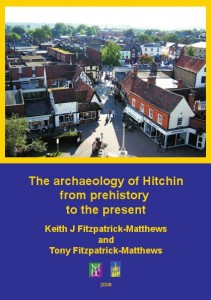 A brief and accessible introduction to the archaeology of the town written by the author of this website and his partner. Features full colour photographs of artefacts and buildings.

The follow up to the highly successful 'Archaeology of Hitchin from prehistory to the present'.  It deals with the archaeology of the 3 villages of Letchworth including the Garden City itself.
Features approximately 75 period photographs from The Francis Frith Collection with captions and an introduction. This title includes historic Ordnance Survey and Victorian county maps. It is intended for tourists, local historians and general readers.
A personal look at Hitchin and the surrounding area from 1900 until 1913, though the pages of the Hertfordshire Express newspaper. Full of intriguing stories and anecdotes, ranging from murder, to the quirky and trivial. They are heart rending, uplifting, miserable, joyous, profound, entertaining and timeless. History as it was lived at the time.

This new collection provides a nostalgic trip back to the Hitchin of the past, with a new look at the fascinating history and heritage of the town via photographs documenting the changes.

Hitchin has a unique and historic town centre which has, over the years, inspired local historians of many generations to take up the pen, paintbrush and camera. But Hitchin also has special characteristics in unsuspected corners of its suburbs. This book is intended to record something of these distinctive aspects of suburban Hitchin, some in situ, some long gone, but all remembered by someone. It incorporates anecdote, ephemera and illustrations never seen outside family shoeboxes.
A wonderful book tracing the lives lives of two 19th century fishmongers in Hitchin as described through their invoices and how the newspapers saw them.
A photographic record of the people in late Victorian Hitchin from the archives in Hitchin Museum.
Hitchin is rightly noted as a classic medieval market town. But, from the mid-nineteenth century, it became also a key railway centre, served by both the Great Northern and Midland companies. This fascinating book explores, with a personal perspective, the impact of Hitchin's railways on the town, its immediate neighbourhood and on our railway history more generally. As such it has become essential reading for both local historians and railway enthusiasts.
Although so close to London this is still a rural area, with quiet country churches with fine monuments, timber-framed farmhouses, and some splendid country houses, of which the most celebrated is Cecil's Jacobean Hatfield House. At St Albans the remains of Roman Verulamium and the great early Norman abbey speak eloquently of older civilizations. The towns offer intriguing contrasts: Hertford, Bishop's Stortford and Hitchin still have the character of traditional market centres, while the new towns of Stevenage, Hemel Hempstead and Hatfield are important exemplars of planning ideals of the 1950s and 60s.