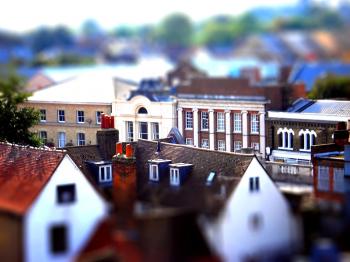 For a change, I thought I would include a more 'aerial' view of Hitchin by showing it from a much higher level. This was taken from St. Mary's Church bell tower roof looking across the roof tops of properties in churchyard towards Market Place. This is a view most people won't see as they won't go up the bell tower of the church or just never look up at the buildings that surround them.
You can see the old Corn Exchange (now Que Pasa) and to its right, the building that houses Waterstones' bookshop and the snooker hall above it.  Immediately to the right of those is the building that contains Merricks (the sweetshop) and the dentist L. Granhed above that.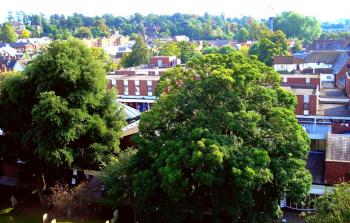 Looking around Hitchin from the top of the church tower, one can just how much greenery there is in the town. This particlular shot is looking south across the churchyard, over Churchgate, past The Sun Hotel, past Bridge Street and on to Priory Park in Hitchin Hill; Also encompassing a few buildings on Queen Street too.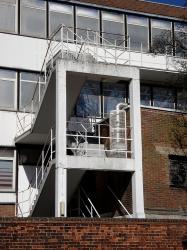 Just for a change, I thought to upload a photograph of the back of a building. (not normally seen and photographed all the less). This was called the National Westminster House and is on Hermitage Road. It used to contain The Yorkshire Bank amongst other businesses such as The Motor Agents Association. I find this side of the building rather more interesting than the front just by the fact of having a set of stairs tacked on to its outside rather than being incorporated inside the building.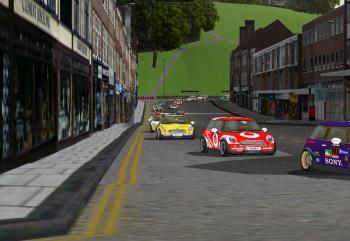 Hitchin Race Circuit is a photo-realistic 3D model of the town centre and some of the other streets that can be played as a computer racing game. (Like Formula 1 racing at Monaco, Silverstone etc)  Download it and race against friends or against others online. It's absolute fun to play a computer game and see Hitchin also. Some buildings are now gone and others have changed hands, so added local history too.  Find it here http://www.hitchin-circuit.co.uk/ and enjoy.